Prime Minister dedicated Genetic counselling card to the nation
Prime Minister Shri Narendra Modi launched Sickle Cell Eradication Mission in Bhopal on November 15, 2021. To mark the occasion of birth anniversary of legendary freedom fighter Birsa Munda.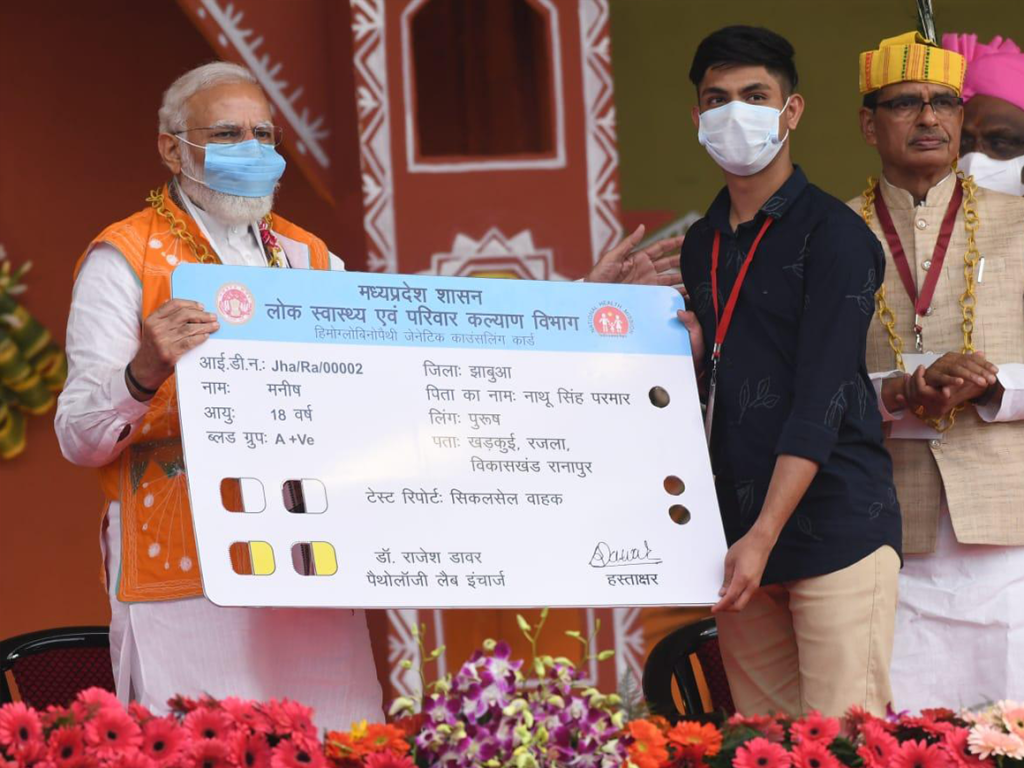 On this occasion Prime Minister Shri Narendra Modi gave special Hemoglobinopathy genetic counselling cards to the beneficiaries invented by a doctor couple. The said Hemoglobinopathy Genetic counselling card also called GIPCI (Genetic Inheritance Prediction Counselling Identification) cards are specially designed cards for prevention of Sickle cell anemia and thalassemia. Researcher couple invented a forecast card that accurately forecasts the monogenic disorder that will occur in the children of a married couple. This will prove to be a revolution in medical science. Now eradication and prevention of disease without any medicine is Possible. This is the first time that such an invention is recognized by the mainstream PMO, health ministry administration (Ministry of Health and welfare Govt of India and M.P).
According to the National Health Mission Government of India, India has the highest number of 42 million Thalassemia patients in the world and about 10,000 to 15,000 children affected by Thalassemia Major are born every year.
And sickle cell disease in India varies from 1 to 35% in different communities, which is an exceptionally large number. According to the National Health Mission's Policy Document 2016 and WHO, genetic counsellors will have to be appointed in health centers for effective prevention of these diseases.
International status: 3 million sickle cell thalassemia diseased babies are born every year. Afro-American, Africa, Saudi Arabia, many European countries are also affected by this disease.
Invention was widely covered in the national & international media.
Several front-page appearance showing the importance of the invention:
Electronic media coverage of GIPCI card.